Nantucket Surfari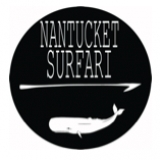 The Nantucket Surfari experience focuses on all aspects of surfing and ocean awareness and is designed to teach the novice or build on the skills of the more seasoned surfer.
Not only will students gain confidence in surfing, they will also learn about ocean safety, etiquette, swell forecasting, surf photography, how to choose and repair equipment and much more. Learning takes place both in the water and the classroom with Nantucket Surfari, and campers receive prizes at the end of each week.
Camps are four days a week from 9AM to 12PM and campers receive a snack each day.
Nantucket Surfari programs can be tailored to meet the needs of adults, kids, families, and groups.
Instructors
Nantucket Surfari instructors are chosen for their passion for surfing as well as their enthusiasm for teaching others how to surf. All instructors are certified in CPR/first aid and some hold a lifeguard certificate.
Surf Locations
Nantucket Surfari, 1 Essex Rd, Nantucket, MA 02554, United States -
View Map
Offerings
Day Camp
Group Lessons
Private Lessons
Board Rentals
Nantucket Surfari's Facebook Updates