Wahine Kai Surf School
est. 2005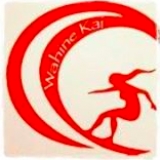 Wahine Kai Surf School offers women a variety of surf camps to choose from. Their goal is to provide an intimate and nurturing environment while challenging the participant to break free and overcome their doubts and fears.
2-day, 3-day, and 5-day camps are offered weekly throughout the summer in addition to private and semi-private lessons.
Instructors
Wahine Kai's staff is a passionate group of surfers with over 75 years of experience combined. They are teachers, small business owners, graduate students, fashion designers, and stay at home moms.
Wahine Kai's highly qualified staff of female instructors has been featured in Eastern Surf Magazine, Surfer Girl Magazine, Elle Magazine, Food Network's "BBQ with Bobby Flay" show, The USA Network's "Ready for the Weekend" show, The Wall Street Journal, and most recently Bravo's "Project Runway". All instructors are CPR/First Aid Certified.
Other Offerings
Check out Wahine Kai's specific programs including: Yoga 4 Surfers Weekend; Intensive Surf Week; Wicked Wahine Weekend for thos 30 and up; Surf Sistah's Weekend for intermediate/advanced; Mother/Daughter Surf Camp; Labor Day 3-Day Camp.
Surf Locations
Wahine Kai Surf School, 49 Turbats Creek Rd, Kennebunkport, ME 04046, United States -
View Map
Offerings
Womens Programs

$140 to $450 per session (various offerings)