Surfari Stand Up Paddle and Surf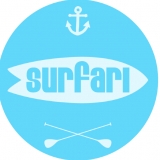 The Surfari experience focuses on all aspects of surfing and ocean awareness and is designed to teach the novice or build on the skills of the more seasoned surfer. Not only will you gain confidence in surfing but also learn about ocean safety and etiquette.
Summer programs for stand up paddling include 3-day camps where students learn about stand up paddle boarding, swimming, treasure hunting, games, eco-awareness, water safety, races, contests, and much more.
Camps are for SUP only--Surfing is lessons only!
Instructors
Join Christian who has been teaching surfing for thirteen years, sharing his passion and knowledge for surfing. All instructors are CPR and first aid certified.
Other Offerings
Be sure to check out all of SUP Safari's unique programs, including after school programs, full moon paddles, SUP tours, SUP Yoga, and SUP Pilates.
Surf Locations
Surfari Stand Up Paddle and Surf, 26 Central St, Manchester-by-the-Sea, MA 01944, United States -
View Map
Offerings
Day Camp

$225 per 3-day week (half-days)

Group Lessons

$62 to $70 per lesson (1 hr)

Private Lessons
SUP Options

$35 to $65 per lesson (1 hr)

Board Rentals

$30 to $45 per board (half-day/full-day)