Surf Lessons New York 101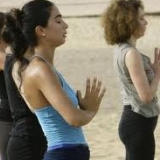 New York Surf Lessons 101 offers surf camps for kids and adults, as well as SUP lessons. All located a short trip from the city, NY Surf Lessons 101 is the perfect way to escape into a week or a day at the beach!
Camps and lessons take place on Rockaway Beach throughout the summer and is committed to getting students of all ages up and riding quickly.
Other Offerings
Be sure to check out New York Surf Lessons 101 unique Surf and Yoga Retreat. This package combines two great activities that complement each other both physically and mentally into a one day mini-camp. Instructors encourage students to transform themselves during this one-day camp. T
hrough the practice of yoga and integration of surfing the participant experiences the healing benefits of deep stretches combined with the physical exertion and joy of riding waves.
Surf Locations
Surf Lessons New York 101, 129 Beach 69th Street, Rockaway, NY 11693, United States -
View Map
Offerings
Day Camp

$379 per week (half-days)

Group Lessons

$58 to $90 per lesson (2 hrs)

Private Lessons

$110 to $175 per session (various offerings)

Adult Camp

$379 per week (half-days)

SUP Options

$95 to $195 per lesson (1.5 hrs)

Board Rentals

$35 to $50 per board (half-day/full-day)
Surf Lessons New York 101's Facebook Updates