Surf Camp Maine
est. 2001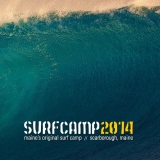 Surf Camp Maine is a day camp for kids and teens aged 9 to 15. Since 2001, Surf Camp has introduced more than 1,500 campers to the sport of surfing at Scarborough Beach State Park.
All of Surf Camp's equipment is conveniently located right on the beach--campers arrive each morning, grab their suit and board and walk to Surf Camp's tent located directly in front of Scarborough Beach's main break.
Campers get a comprehensive "beach lesson" where they'll learn ocean safety, board control, paddling and pop-up techniques. With a maximum of 3 campers for every instructor, each student receives plenty of attention and feedback based on their ability.
Instructors
From this pristine Maine beach, attendees in Surf Camp learn to surf from expert instructors, make new friends, explore the local marine environment, and enjoy the Maine summer in the best possible way: outdoors and at the beach!
Additonal Info
Surf Camp Maine prides itself on their commitment to the environment. By donating a portion of camper tuition to environmental fundraisers, Surf Camp supports local efforts to increase awareness about sustainability. This year Surf Camp Maine has chosen Urban Runoff as the recipient of their environmental donation.
In addtion to supporting local enviromental efforts, Surf Camp has campers take a break from their morning surf session every Wendesday to partake in an ocean conservation lesson followed by an extensive beach clean-up. To date, Surf Camp has removed over 200 pounds of rubbish from the beach.
Other sustainable practices include organizing car pooling and recycling throughout the week. At Surf Camp, campers will learn the necessary environmental ethic that surfing requires while helping to keep the Maine coast beautiful!
Surf Locations
Scarborough Beach State Park Higgins Beach
Surf Camp Maine, 418 Blackpoint Rd., Scarborough, ME 04074, United States -
View Map
Offerings
Day Camp

$459 per week (full-days)

Group Lessons
Private Lessons
Adult Camp
Surf Camp Maine's Facebook Updates