Surf 2 Live LB
est. 1984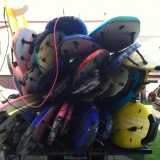 Surf 2 Live was one of the first surf school's to be endorsed by the National Surf Schools and Instructors Association, and has made it their goal to maintain high quality instruction for nearly 30 years. Kids camps are for ages 5 and up and run from 9AM to 1PM, Monday-Friday all summer long.
Surf 2 Live's camps are geared for those who are serious about learning to surf and want to progress quickly, and their NSSIA certified instructors give each student the necessary lesson to get them up and riding waves.
Other Offerings
In addition to kids camps, Surf 2 Live offers weekend adult camps, which operate on Saturday's and Sunday's from 10AM to 1PM. These camps (sold by the day) are intended to accommodate adult's work schedules, allowing them to get a full day of surfing at the end of the week.
If you don't have time for a full 1-day adult camp, check out Surf 2 Live's weekend group classes. These lessons run 90 minutes long and are intended for both individuals and group sign ups. Surf 2 Live also has private and semi-private lessons.
Surf Locations
Surf 2 Live LB, 830 Shore Rd, Long Beach, NY 11561, United States -
View Map
Offerings
Day Camp

$375 per week (half-days)

Group Lessons
Private Lessons

$125 to $135 per lesson (1 hr)

Adult Camp

$100 per session (various offerings)

SUP Options
Surf 2 Live LB's Facebook Updates