Summertime Surf School
est. 2006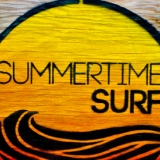 Summertime Surf School emphasizes character and skill development through surfing. Although Summertime offers lessons and camps for adults and advanced surfers, the kids camps are their focus.
In addition to surfing fundamentals, students will learn ocean safety and surf etiquette in either a morning session (9AM-12PM) or afternoon session (1PM-4PM). Students may also choose to participate in both sessions. Camp sessions operate weekly.
Summertime also has a weekend option for those who do not wish to take a full week of camp, operating from 8AM-10AM Sat/Sun.
instructors
Summertime's team is made up of individuals who serve as both surf instructors and role models, all with the goal of providing a safe and fun learning environment.
other offerings
In addition to traditional summer camps, Summertime offers Women's Surf Weekends, Adult Camps, Private and semi-private lessons, as well as Corporate Events and SUP options.
Surf Locations
Belmar Beach Bradley Beach Point Pleasant Beach Ortley Beach
Summertime Surf School, Belmar, NJ 07719, United States
Offerings
Day Camp

$275 to $495 per session (various offerings)

Group Lessons
Private Lessons
Adult Camp

$100 to $395 per session (various offerings)

SUP Options
Summertime Surf School's Facebook Updates