Skudin Surf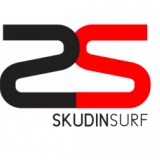 The only East Coast surf school operated by internationally ranked big wave surfers, Skudin Surf offers year-round lessons as well as summertime day camps for both kids and adults. Skudin's comprehensive website allows easy sign ups, interactive media and up-to-date information on upcoming camps and events.
At Skudin Surf, beginner, intermediate, and advanced surfers are always welcome. Skudin's surfing camps in New York are for anyone who wants to learn how to surf and gain better surf skills in a fun and safe atmosphere.
Instructors
In addition to the Skudin brothers, the surf school's camps and other surf lessons are run by certified lifeguards who hold both CPR and first aid credentials.
Other Offerings
Be sure to check out Skudin's Weekend Group Lessons, Birthday Group Lessons, and Corporate Group Lessons. In addition to all of their New York based surf instruction, Skudin offers Costa Rica Surf Adventures with various surf packages, from short-stay to premium.
Surf Locations
Long Beach Lido Beach Rockaway Beach Atlantic Beach
Skudin Surf, 218 E. Park Ave, 552, Long Beach, NY 11561, United States -
View Map
Offerings
Day Camp

$375 to $695 per week (full-days)

Group Lessons

$65 to $75 per lesson (1.5 hrs)

Private Lessons

$95 to $115 per lesson (1.5 hrs)

Adult Camp

$375 to $425 per week (full-days)

SUP Options
Board Rentals

$30 to $40 per board (half-day/full-day)