Sick Day Surf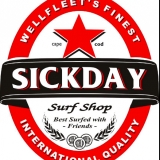 Sick Day offers personalized surfing lessons and camps covering everything from the source of swell to the terminology and etiquette of surfing. Their goals are to get you comfortable and knowledgeable in all aspects of surfing, and to get you WICKED STOKED...to have lotsa fun.
Lessons include surfboards and wetsuits. Large group lessons must be organized with plenty of lead time.
Check out the 2% discount on the Surf School option for campers attending with a family member!
Instructors
Sick day's professional instructors are all CPR certified experienced Surfers who are known for there surfing talent and are well respected within the New England Area.
Sick Day Surf, 361 Main St, Wellfleet, MA 02667, United States -
View Map
Offerings
Day Camp

$150 to $550 per session (various offerings)

Group Lessons
Private Lessons
SUP Options
Board Rentals