Sacred Surf School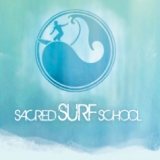 With names like The Tutorial, The Ocean Classroom, The Graduate, and The Addict, Sacred Surf offers a range of lessons to suit beginner and intermediate surfers looking to advance their skills. Taught in an unintimidating environment, students will benefit from the techniques of experienced and passionate instructors who are committed to your safety and enjoyment.
Sacred Surf's goal is to teach students to surf, not just to paddle and stand up once or twice. They want campers and students to leave with a lasting and applicable knowledge of surfing while feeling the thrill of their own capabilities.
In addition to learning to ride waves, students will learn the basics of tide and ocean dynamics as well as surf etiquette.
Instructors
All instructors are exprerienced surfers with CPR and first aid certifications. Check out Sacred Surf's instructor bio page to learn about each crew member.
Surf Locations
Sacred Surf School, 124 Route 6, Wellfleet, MA 02667, United States -
View Map
Offerings
Day Camp

$160 per session (various offerings)

Group Lessons

$75 to $160 various offerings

Private Lessons
Sacred Surf School's Facebook Updates