Rehoboth Boarding School
est. 2000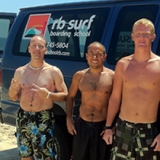 Located in both Rehoboth Beach and Bethany Beach, the Boarding School offers a variety of lesson types designed to get beginners and intermediate surfers in the water. The Boarding School does not exceed a student to instructor ratio of 5:1 and strives for a safe and fun learning environment.
Group Lessons are offered throughout the summer in two-hour increments, with a maximum of 10 people per lesson. Students should arrive to the lesson 30-minutes prior to the start time.
Semi-private Lessons are for groups no larger than 5 and are designed for families, groups of friends, or any small group that wants to learn to surf together! These lessons are 2 hours.
Private Lessons are one-on-one or two-on-one if you want bring one friend, and are 1 hour long. These lessons give the student expert instruction for one hour and are scheduled around appropriate tides and conditions depending on the desire of the student. For beginners or more advanced surfers looking to improve their skills.
instructors
The Boarding School's staff is made up of experienced surfers who have travelled the world in search of waves. With places like Puerto Rico, California and the US Virgin Islands under their belt, you can be sure these instructors have the know-how to get you riding waves!
Rehoboth Boarding School, Pennsylvania Ave, Bethany Beach, DE 19930, United States -
View Map
Offerings
Group Lessons

$70 to $85 per lesson (2 hrs)

Private Lessons
Rehoboth Boarding School's Facebook Updates