Northeast Surfing Academy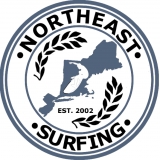 From one day lessons to week long camps for both children and adults, Northeast Surf Academy offers anyone who's interested a chance to get in the waves, whether surfing or paddle boarding.
Northeast Surfing emphasizes ocean safety and surf etiquette, discusses ocean science topics such as waves and tides, marine biology, winds, coastal ecology and beach profiles, and teaches stretching and exercises for young surfers. Northeast Surfing suggests all participants have strong swimming abilities and be able to tread water for at least 4 minutes.
Instructors
Northeast Surfing Academy has both male and female instructors, all with at least 15 years experience and training in teaching surfing.
Other Offerings
Some unique offerings include: Surf/Paddleboard Week Academy Combo for Children, where kids can learn how to ride waves on both different watercrafts over the course of the full week-long camp. Northeast Surf Academy also offers Group Outings, in which they can accommodate large groups, children and adults, ranging from 6 to 30 people at one time.
Also check out surf coaching, paddleboarding tours, and the adult academy.
Surf Locations
Northeast Surfing Academy, Manomet Drive, Hull, MA 02045, United States -
View Map
Offerings
Day Camp

$269 per week (full-days)

Group Lessons
Private Lessons
Adult Camp

$269 per week (full-days)

SUP Options