Main Beach Surf and Sport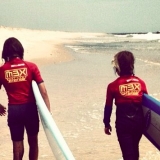 Start the day with a morning of stretching and yoga before some instructed balance training. Main Beach Surf Camps offer various skills, including reading swell maps and surf forecasts, in addition to teaching surfing technique and etiquette.
Maine Beach specializes in teaching individual surfing techniques, including floaters, airs, and hanging 5 among many others. Main Beach has an extensive program to ensure you get the most out of your learn-to-surf experience.
Each day campers enjoy a catered lunch from local caterer Hamptons Market Place.
Instructors
Main Beach promises a 2:1 instructor camper to instructor ratio. Instructors are Red Cross certified and emphasize in-water conversation to improve beginner and advanced surfing techniques. Main Beach instructors also choose the best place to surf depending on the experience of the camper or student.
Other Offerings
Check out Main Beach's newest camp offering in Santa Teresa, Costa Rica. Designed to allow campers aged 7-14 to practice their surfing skills in more advanced waves throughout the winter, this international camp follows a similar schedule to the Hamptons based summer camp. Accommodation is not provided.
Surf Locations
Main Beach Surf and Sport, 352 Mantauk Highway, Wainscott, NY 11975, United States -
View Map
Offerings
Day Camp

$1195 per week (full-days)

Group Lessons
Private Lessons

$150 per lesson (1.5 hrs)

Womens Programs
SUP Options

$175 per lesson (1.5 hrs)
Main Beach Surf and Sport's Facebook Updates