Locals Surf School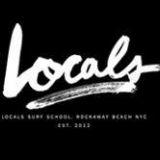 Locals Surf School gives New Yorkers another option for quality surf instruction just outside of the city. Sign up for a single private or group lesson or a full week of camp.
Already have some surfing experience? Check out Locals Surf Shop's rental equipment to improve your skills on your own! At Locals Surf School, campers are guaranteed to learn all basic surf skills and improve upon any existing skills in a very intimate and fun environment. Everyone gets plenty of attention for teaching effectiveness and added safety.
In addition to learning the basic techniques of surfing, campers are taught important surfing etiquette while experiencing a new sport.
Additional Info
Be sure to ask about the 5 Lesson Package, lesson gift certificates, and company outings.
Instructors
All instructors are either current or former beach lifeguards and hold certifications in CPR and NSSIA.
Surf Locations
Locals Surf School, Beach 67th Street, Rockaway Beach, NY 11692, United States -
View Map
Offerings
Day Camp

$375 to $400 per week (half-days)

Group Lessons
Private Lessons
Board Rentals