Liquid Dreams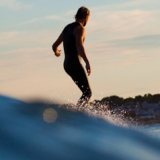 One of Maine's largest surf retailers also has a huge selection of camps, lessons, and unique events to suit any surfing or wave riding needs. In addition to private lessons, Liquid Dreams offers specialized programs for surfers of all ages.
Special Offerings
These camps are designed with specific ages and abilities in mind. Check out: Ride the 5 Surf Camp, during which campers will have the opportunity to ride five different types of wavecraft: surfing, boogie boarding, stand-up paddling, skim boarding and body surfing.
Liquid Dreams also offers a Little Rippers Camp. Little Rippers Camp is available for beginner surfers ages 5-9! Little Rippers Camps are MON-WED-FRI all summer long at our York Beach location. Students will work on the fundamentals of surfing over the course of 3 days, and will be RIPPING by Friday.
Check out Liquid Dreams' Ladies Night, Stand Up Paddling Lessons, MOMs SUP Mornings, and special events!
Surf Locations
Liquid Dreams, 696 Main St. RT 1, Ogunquit, ME 03907, United States -
View Map
Offerings
Day Camp

$90 to $495 per session (various offerings)

Group Lessons
Private Lessons
Womens Programs
SUP Options

$70 to $105 per session (various offerings)