LBI Surf School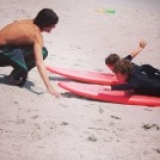 LBI Surf School can accommodate students who wish to do a one-on-one lesson all the way up to large groups. LBI bases their lessons off of a "waves caught" count: rather than paying for an hour long lesson, students pay for a guaranteed "20 waves caught". In addition to providing all necessary equipment, LBI promises to have surfers up and riding after their first lesson!
LBI's Junior Surf Camp meets every Tuesday and Thursday starting in July and runs from either 9:00AM to 12:00PM or 12:00PM to 3:00PM. Camp is for ages 8-13 and includes wetsuits and soft-top surfboards.
INSTRUCTORS
Fully certified in teaching surfing and SUP. Both male and female instructors. Student to instructor ratio wil not exceed 3:1.
Other Offerings
LBI also offers Surf Clinics. These clinics can be purchased as either 4-, 5-, or 6-day packages and are designed for beginner to advanced surfers. Students can choose either consecutive or non-consecutive days to take each session, and prices range from $200 to $280.
SUP Offerings: LBI has an extensive list of SUP offerings, including private and group lessons, junior paddleboard camp and mommy (or daddy) and me paddleboarding, for kids 3-8.
Also check out LBI's Surf and Yoga Workshop or their SUP and Yoga Workshop.
Surf Locations
LBI Surf School, Long Beach Island, NJ 08008, United States
Offerings
Day Camp

$190 to $200 per session (various offerings)

Group Lessons
Private Lessons
SUP Options
LBI Surf School's Facebook Updates