Hammer Surf School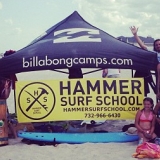 At Hammer Surf School, New Jersey native and X-Games champion Sam Hammer offers his extensive knowledge to aspiring surfers. Hammer Surf School focuses on water safety and ocean awareness in addition to teaching the fundamentals of surfing.
Hammer Surf School emphasizes that they are not a summer camp, but a school. With individualized lesson plans for each participant, Hammer Surf School strives to give every student the attention they need to learn to surf quickly.
Instructors
Sam Hammer has won the X-Games in addition to East Coast competitions, and is sponsored by Billabong and other surf companies. With a professionally competitive surfer at the helm, all Hammer Surf School participants are sure to have the most experienced instruction possible.
Surf Locations
Hammer Surf School, Lavallette, NJ 08735, United States
Offerings
Group Lessons
Private Lessons
Hammer Surf School's Facebook Updates