Global Boarding
est. 2001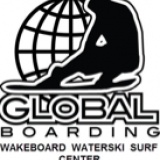 Take a different approach to the water by trying more than just surfing! Global Boarding has two different locations for trying out different water-based activities, and guarantees a fun time whether you are in to tubing or surfing.
Every day is spent out on the water with campers immersing themselves in a different adventure. Global Boarding promises small group numbers in order to spend more time on each activity. Global Boarding concentrates on the individual to make sure he/she learns and progresses in their sport.
Surfing and Ocean Safety are held at our pristine local Hampton beaches. Our Sag Harbor base, with its calm waters, is used for Wakeboarding, Tubing, Wakesurfing, and lots more! Also check out Global Boarding's Private and Semi-Private lessons.
Instructors
All Global Boarding coaches are ARC Certified Professionals with years of experience in their sports. Global Boarding takes safety seriously to ensure they provide a safe learning environment through high caliber coaches.
Surf Locations
Global Boarding, PO Box 1192, Wainscott, NY 11975, United States
Offerings
Day Camp

$1225 to $1300 per session (various offerings)

Group Lessons
Private Lessons

$150 per lesson (1.5 hrs)

SUP Options

$75 to $110 per lesson (1.5 hrs)
Global Boarding's Facebook Updates