Fun Seekers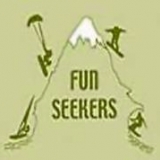 Fun Seekers operates in the adventure world, offering everything from surfing to back country skiing in the winter. With locations all along Cape Cod, Fun Seekers is well suited to meet a variety of needs from those who wish to learn to surf.
Cape Cod offers excellent surf breaks for all levels and abilities, but surfing is tide dependent, therefore lessons are scheduled daily around low tide. Fun Seekers offers daily instruction at several area beaches depending on ability level and current conditions. A full wetsuit, surfboard and leash are included in your lesson price.
Instructors
All Fun Seekers instructors maintain an Advanced First Aid and CPR certification. More importantly, Fun Seekers' guides know how to educate and have fun - that's what it's all about.
Other Offerings
Fun Seekers now offers SUP lessons in both the ocean and flat water, and include all equipment. Also check out their kiteboarding and windsurfing lessons. If you're really looking for adventure, explore Fun Seekers' winter offerings including backcountry skiing and snowkiteing out West!
Surf Locations
Head of the Meadow Beach White Crest Beach Nauset Light Coast Guard Beach
Fun Seekers, PO Box 1143, Wellfleet, MA 02667, United States
Offerings
Group Lessons

$35 to $50 per lesson (1 hr)

Private Lessons
SUP Options

$30 to $60 per lesson (1 hr)
Fun Seekers's Facebook Updates