FCA Surf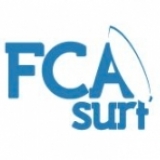 FCA Surf is a Christian-affiliated camp that aims to instill a strong sense of religion and Jesus Christ into their curriculum. FCA Surf provides week long camps starting in June all the way through August.
Students will meet new friends and enjoy FCA's experienced surfing instructors that will attend to campers needs individually in regards to their level of surfing and ability. Surfboards, rash guards and snacks are provided.
Students must be able to willingly endure a highly vigorous physical workout that involves swimming and must have respect for the power of the ocean, be in good health and willing to obey instructors and lifeguards.
Students must know how to swim. Every effort will be made for safety in and out of the water. FCA reserves the right to cancel the camp due to severe weather & waves, lightning or other conditions. Enrollment is first come first serve basis.

Surf Locations
FCA Surf, 245 Tuckahoe Rd, Marmora, NJ 08223, United States -
View Map
Offerings
Day Camp

$195 to $275 per week (full-days)

Group Lessons

$60 to $63 per lesson (1.5 hrs)

Private Lessons