Farias Surf and Sport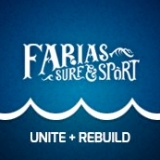 With three locations on Long Beach Island, Farias Surf and Sport has the ability to suit any and all surfing needs and capabilities. Farias' Dave Werner, a renowned New Jersey surfer, brings to each lesson a high level of expertise to get you up and riding waves.
Whether you choose to use one of Farias soft-top surfboards or bring your own, you'll never be out with more than 3 students for every one instructor. All lessons run approximately an hour but can be altered to suit each indiviudals needs.
Surf Locations
Farias Surf and Sport, 28th Street and Long Beach Blvd., Ship Bottom, NJ 08008, United States -
View Map