East Coast Hui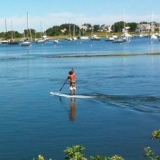 East Coast Hui allows kids the opportunity to learn to surf and paddleboard, while building self-esteem and making new friends along Boston's South Shore. All equipment including surfboards, stand up paddle boards, and boogie boards will be provided.
Campers are allowed to bring their own equipment if applicable but it is not necessary.
Lessons include 15 minutes of stretching and instruction on the beach followed by one full hour of water time.

Instructors
With over thirty-five years water experience, surfing, paddling, Bobby Fenton (East Coast Hui owner) has passed on his knowledge to many young surfers and paddlers. He has traveled to many surf destinations around the world and competed in the Battle of the Paddle, among other surf and paddle contests. Bobby holds certifications in both CPR and First Aid.
Other Offerings
East Coast Hui offers a Stand Up Paddle Romance Package for those looking to try something new. The package is unguided and includes two paddleboards with paddles, a bottle of wine and a fruit or cheese platter. To start, participants head to the beach and relax in two adirondack chairs with a glass of wine and fruit or cheese, then head to the water to cruise the Scituate coast line. Each package is individually tailored and must be arranged over the phone.

Surf Locations
East Coast Hui, ​30 Peggotty Beach Rd., Scituate, MA 02066, United States -
View Map
Offerings
Day Camp

$295 per week (half-days)

Private Lessons
SUP Options

$40 to $50 per lesson (1 hr)

Board Rentals

$20 to $40 per board (half-day/full-day)