Dewey Beach Surf Shop
est. 1997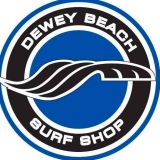 Originally a skimboarding camp, Dewey Beach Surf Shop has recently added surfing into their camp curriculum and is one of the few options along Delaware's short coast for week-long camps.
Surf and Skim camps are offered Monday thru Thursday from 9AM-3PM and Friday 9AM-1PM, for 12-17 year olds. Unlike many camps, Dewey will provide food and drink each day from a variety of local restaraunts. Dewey Beach Surf Shop promises to get all campers into the surf no matter the conditions- if the swell is down, campers skimboard, if it's up, they surf!
At the end of each week, DBSS hosts a surf contest for all campers to participate in. Campers learn the basics of surf competition in addition for the chance to win prizes and compete against their friends!
DBSS only offers two sessions each summer. Contact directly for exact session dates.
Surf Locations
Dewey Beach Surf Shop, 2105 Coastal Highway, Dewey Beach, DE 19971, United States -
View Map
Dewey Beach Surf Shop's Facebook Updates