CoreysWave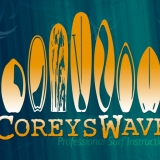 With private and group surf lessons as well as parties and special outings on offer, CoreysWave designs lessons based on the level of the individual or group. Lessons include teaching students everything from paddling and wave timing to technique and safety in the water.
Instructors
CoreysWave instructors are adept at reading a student's skill level in the water, and set the tone of the lesson based on the student's comfort in the ocean. From beginners to the more advanced, each lesson brings a new level of skill and confidence for the student, proving over and again to get them stoked on surfing and being in the water.
Surf Travel
Be sure to also check out CoreysWave's Destination Surf: With locations all over the world, CoreysWave can help you find the perfect international surf vacation!
CoreysWave, , NY 11954, United States
Offerings
Group Lessons
Private Lessons
SUP Options