Coastline Adventures Surfing School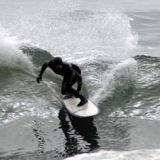 Whether you choose a private lesson, group clinic or camp, Coastlie Adventures' comprehensive curriculum guarantees your safety, success and enjoyment in a cooperative and supportive environment! Through discussions, demonstrations, beach and water training, drills, games, coaching and personal attention, you will experience the art and science of surfing!
In addition to all of the necessary equipment, Coastline Adventures will provide each student with instruction on surfing techniques and etiquette, all specifially oriented to your skill level. Check out the advanced lesson options if you have already started your surfing life!
Coastline Adventures has a variety of surf camp and lesson offerings:
1, 3, and 5 half-day Billabong Surf Camps
Girls-only 1-day Surf Camps
Women's Surf Retreats
Adult Surf Programs
SUP Lessons
Group and Private Surf Lessons
Surf Locations
Coastline Adventures Surfing School, PO Box 1274, Normandy Beach, NJ 08739, United States
Offerings
Day Camp

$375 per week (half-days)

Private Lessons
Adult Camp
Womens Programs

$110 to $200 per session (various offerings)

SUP Options
Board Rentals

$40 to $60 per board (half-day/full-day)