Cinnamon Rainbows Surf Co
est. 1982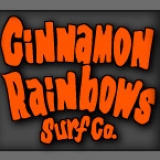 From one to multi-day private lessons, as well as kids, womens and adults camps, Cinnamon Rainbows has been making waves in the New England surf scene for over 20 years. Camps operate three days from 5:30-7:30 and are for students 11 and up.
Specific adult and women's camps also operate throughout the week for 18+ year olds.
Like the board you had your lesson on? Chances are you'll be able to buy the same one back in Cinnamon Rainbows' huge board room!
Surf Locations
Cinnamon Rainbows Surf Co, 931 Ocean Blvd, Hampton, NH 03842, United States -
View Map
Offerings
Day Camp

$75 per 3-day week (evenings)

Group Lessons
Private Lessons
Adult Camp
Womens Programs
SUP Options
Board Rentals
Cinnamon Rainbows Surf Co's Facebook Updates