Cape Cod Surfing Lessons
est. 2009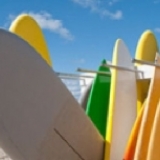 Cape Cod has miles of coastline but only a small portion of it has waves big enough to surf. Cape Cod Suring Lessons offers private lessons only, to most ages and all skill levels. Equipment is provided and an instructor will be in the water with all students.
All surf lessons are conducted out on the east coast of Cape Cod with instructors present. We use hard top surfboards. (We may use soft top surfboards depending on age). Call for prices and availability.
Instructors
Our Surf Instructors grew up surfing on Cape Cod and will bring you to the surfable breaks and instruct you on how to surf the right way
Other Offerings
In addition to surfing lessons, Cape Cod Surfing Lessons offers skimboarding lessons and skimboarding rentals.
Cape Cod Surfing Lessons, , MA 02667, United States
Offerings
Group Lessons
Private Lessons
Board Rentals