Cape Cod Surf Camp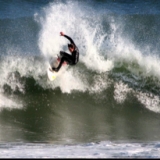 Located in Orleans, MA, Cape Cod Surf Camp offers camps, lessons, and SUP options along the beaches of Cape Cod. Cape Cod Surf Camp was one of the first surf camps located on Cape Cod and provides customers with the opportunity to learn to surf with local Cape surfers.
We specialize in all levels of surfing from beginners to advanced riders of any age. In addition to teaching the basic techniques of paddling, popping up and riding a wave, Cape Cod Surf Camp students will learn to recognize swell dynamics, understand surf etiquette and appreciate water safety.
Cape Cod Surf Camp keeps classes small in order to accommodate the needs of each individual, ensuring all students have the oppotunity to achieve their goals.
Instructors
All Cape Cod Surf Camp instructors have grown up in the Cape waters and are first-aid and CPR certified. Instructors are chosen for their passion for teaching and sharing surfing with others.
Cape Cod Surf Camp, PO Box 329, East Orleans, MA 02643, United States
Offerings
Day Camp

$450 per week (half-days)

Private Lessons
SUP Options

$30 to $40 per lesson (1 hr)
Cape Cod Surf Camp's Facebook Updates