Breakwater Surf Co
est. 2012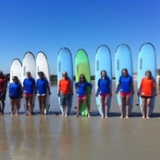 Breakwater offers only private one-on-one lessons in 90 minute and 120 intervals. Breakwater's world traveled instructors are knowledgeable in different types of surfing styles and techniques, with the ability to accommodate beginner, intermediate, and advanced students.
Instructors work with students step by step and answer any questions that may pop up along the way. Breakwater offers video analysis during the lesson which allows instructors and students to review technique and show progress throughout the lesson.
With proven coaching and teaching methods, Breakwater's staff will do their best to ensue you are not only learning to surf, but that you understand how to become a better surfer.
Breakwater Surf Co, 67-20 Rockaway Beach Blvd, Arverne, NY 11692, United States -
View Map
Offerings
Private Lessons

$125 to $150 per session (various offerings)

SUP Options

$125 to $150 per session (various offerings)

Board Rentals

$30 to $40 per board (half-day/full-day)