Beach House Classic Board Shop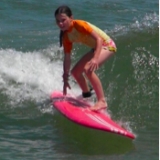 Beach House prides itself on giving superior private surf instruction on the Jersey Shore for over 15 years! Beach House Surf opens the door to surfing to people of all ages who have the desire to "Catch the Wave!"
Students are taught the art of surfing, ocean safety & surfing etiquette. Instruction starts on the beach and continues in the water where the surfer learns to catch and ultimately ride waves. All Private lessons are customized to the surfer's ability & experience, allowing for maximum growth and enjoyment for each surfer.
Surf Locations
Beach House Classic Board Shop, 517 Main Ave, Bay Head, NJ 08742, United States -
View Map
Offerings
Private Lessons
SUP Options