Atlantic City Surf School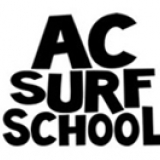 With a maximum student to instructor ratio of 4:1, Atlantic City Surf School promises comprehensive surf lessons along some of the East Coast's best breaks. Whether you're looking for something to do in the middle of the week or want to progress your skills over a weekend course, AC Surf School can accommodate your surfing needs.
As the only surf school on the East coast certified by Surfing America, AC Surf School specializes in advanced surfing technique instruction in addition to beginner camps and lessons. Kids camps include dryland instruction, beach and ocean safety, and board and balance control.
Camps are offered to 9-15 year olds, with a "Teenie Wahine" option, specifically for 9-13 year olds.
Instructors
Get experienced and professional instruction from seven time East coast champion and national champion Tom O'Brien. In addition to teaching beginner, intermediate and advanced surfing, Tom is a certified EMT and local Fire Captain.
Also on the team at AC Surf School is Tom Forkin, former East coast surfing champion and Atlantic City Beach Patrol member. Tom has competed in long distance paddleboarding events as and has experience in all of the world's oceans!
Other Offerings
Be sure to also check out their private birthday parties, corporate events, and their newest offering, Zen Surf. Zen Surf explores the physical and mental connections between Tai Chi, yoga and surfing.
Surf Locations
Revel Beach Raleigh Ave Beach New Jersey Ave Beach
Atlantic City Surf School, Atlantic City, NJ 08401, United States
Offerings
Day Camp

$400 per week (full-days)

Group Lessons

$50 to $60 per lesson (3 hrs)

Private Lessons

$50 to $60 per lesson (3 hrs)

Adult Camp

$500 per week (full-days)

SUP Options