Aquaholics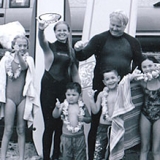 Welcome to surfing the way it should be! Aquaholics Surf Camps make it easy to fall in love with the healthy sport of surfing in the pristine surroundings of Southern Maine. The camps are geared for beginner to novice, children and adults. Nearly every surfer is up and riding by the end of the first camp session, and by the end of the week, campers feel confident enough to try it on their own. Aquaholics is fully insured and sanctioned by area Parks and Recreation departments.
INSRUCTORS
From national surfing champs to highly experienced teens, the Aquaholics team can teach anyone how to catch a wave! Instructors are all CPR certified. The staff includes lifeguards and fitness professionals who emphasize safety and fun!
Other Offerings
Aquaholics also offers surf camps throughout the Fall and Winter in Southern Maine. You'll feel like a super hero after surfing winter conditions!
Are you registering your kids for Surf Camp? Would your kids prefer to SUP? Sign up for SUP "Camp" and everyone has a blast in the same time slot!
Surf Locations
Kennebunk Beach Fortunes Rocks Higgins Beach Old Orchard Beach
Aquaholics, 166 Port Rd, Kennebunk, ME 04043, United States -
View Map
Offerings
Day Camp

$150 to $200 per 3-day week (half-days)

Group Lessons

$73 to $110 per lesson (1.5 hrs)

Private Lessons

$110 per lesson (1.5 hrs)

SUP Options

$150 per 3-day week (half-days)

Board Rentals

$35 to $50 per board (full-day)
Aquaholics's Facebook Updates